"High quality fruit from Africa is gaining more and more recognition in the Chinese market," Wu Peng, director general of the Chinese foreign ministry's African affairs department, tweeted recently.
This comes as China imports more farm produce from Africa, including avocados, cashews, sesame seeds and chilli peppers, as agriculture becomes the new focus of its engagement with the continent.
Observers link the increase to Xi's 2021 pledge to open "green lanes" for African non-resource exports, including faster inspection and quarantine, and wider tariff waivers.
The strategy aims to grow African imports to US$300 billion by 2024, from US$105.9 billion in 2021, as part of efforts to narrow the trade deficit with China, the continent's largest trading partner. China imported agricultural products worth US$5 billion from Africa in 2021.
Beijing has since implemented zero-tariff imports for 98 per cent of taxable items from more than a dozen least-developed countries (LDCs), most of them in Africa.
Why is the Chinese government so concerned about food security?
A new study by Development Reimagined, a Beijing-based international development consultancy, said the green lanes were having some impact – with many African agricultural products making their first appearance in Chinese markets since Xi's address to the Forum on China–Africa Cooperation in November 2021.
However, challenges remain, as highlighted by the March 23 study – called "FOCAC 8 at one: what has changed? A look at the Trade Facilitation Initiatives" – and Development Reimagined chief executive Hannah Ryder.
The study cited Kenya, which was exporting fresh avocados to China under a phytosanitary agreement signed in January last year, with 15 Kenyan traders making the cut and tariffs slashed by more than a third.
The shipments, which began in August, had reached 1,700 tonnes by November.
"Because avocados attract a higher price … this relatively small number of avocados compared to Kenya's total annual capacity of around 80,000 tonnes nevertheless earned Kenya around US$55 million within three months, illustrating the significance of this kind of market access," the study said.
Tanzania also signed inspection and quarantine, veterinary sanitary and phytosanitary protocols with China – including for fresh avocado – when President Samia Suluhu Hassan visited Beijing in November.
Tanzanian sesame, citrus fruits from South Africa and dry chilli from Rwanda have also benefited from Beijing's strategy.
"As China opens up further in 2023 after a period of Covid-19 restrictions … we can expect to see more similar agreements signed between African countries and China and more growth in agricultural exports from Africa to China," the researchers at Development Reimagined said.
However, structural challenges such as non-tariff barriers and high tariffs are preventing the green lanes from reaching their full potential.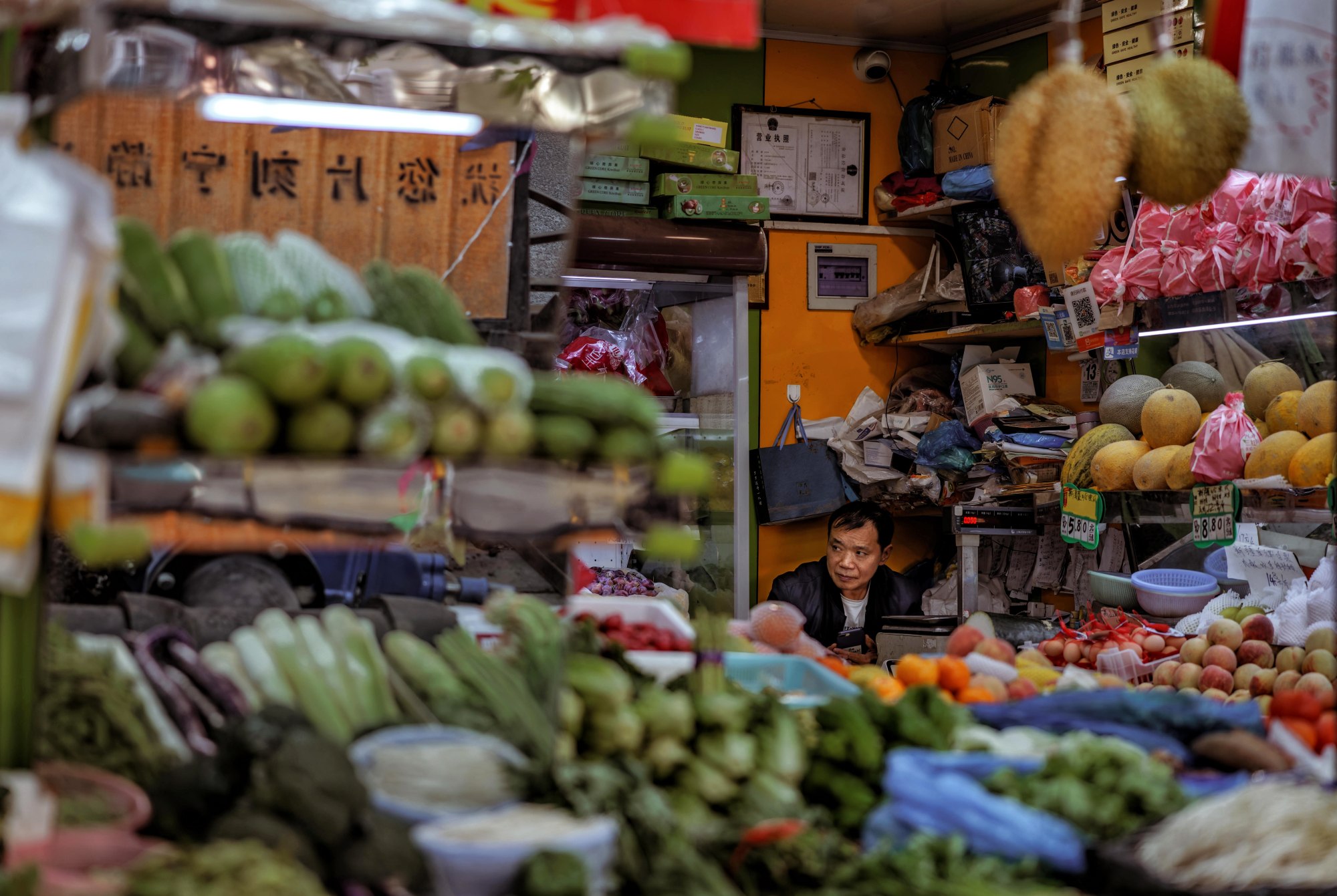 A man sells fruits and vegetables in a street shop, in Shanghai, China. Photo: EPA-EFE
Ryder noted that China's commitment to open up its market had led to an 18.23 per cent year-on-year increase in African exports since 2021. However, "we must not only focus on the 'low-hanging fruits'," she cautioned.
"While it is great that Africa's LDCs enjoy tariff-free access for most products into China, certain low and middle-income countries such as Ghana or Kenya do not," she told a China-Africa Business Council seminar in Beijing last month.
"Focusing on raw products, and not creating special incentives for African firms specifically can create limitations."
For instance, Ghana and the Ivory Coast were major cocoa sellers but benefit about 4 per cent from the US$100 billion global market in chocolate, according to Ryder.
"Part of this market is in China, and will increasingly be," she said, while also highlighting avocado-based products.
"Opening up China's market and investing in producing these products in African countries would enable African exports to China to increase in value."
China-funded infrastructure across Africa force difficult decisions for its leaders
The Development Reimagined study said non-tariff barriers included strict sanitary and phytosanitary standards for fresh produce, which sometimes required the use of specialised equipment, pesticides or medicine. It took more than two years for Kenya's avocado farmers to comply with Chinese standards.
Also, tariffs remain as high as 30 per cent for cashew nuts and cocoa beans, for instance.
Africa is still one of China's smallest trading partners, accounting for only around 4 per cent of its global trade, the study noted.
Lauren Johnston, a China-Africa researcher at the South African Institute of International Affairs in Johannesburg, said Beijing's green lanes initiative aims to promote food security on both sides. "It [also] aims to foster growth in rural incomes and hence help to alleviate poverty faster."
Hunan in central China, the first province to implement Xi's green lanes plan, was home to sophisticated agritech and food production systems, including seed innovation companies and research entities that could support related food production growth in Africa, Johnston said.
The province also had a long history of agricultural demonstration projects in Africa, she added, noting that seed autonomy was a priority for both China and Africa.
Other challenges include meeting quality and quantity requirements. Tanzania, for instance, has the potential to become an important exporter of cassava and soybean to China, but it lacks industrial experience.
Johnston said China had been trying to help Tanzanian farmers to boost high-quality harvests, especially for cassava, which could improve agricultural productivity and export potential as well as food security.
Deborah Brautigam, professor of international political economy at Johns Hopkins University and founding director of its China Africa Research Initiative, said increased agricultural exports to China was "something Africans have been asking for" and it benefited both sides.
"China wants to import more agricultural products given it is land-scarce, so making imports easier achieves both goals."
On non-tariff barriers, Brautigam said: "Like other countries, China uses trade restrictions to protect its farmers and it also has strict phytosanitary requirements to protect against unwelcome pests."
Source: SCMP