It ended so much better than it began.
On the heels of an embarrassing T20 World Cup exit and a chastening Test tour of Australia, without a national men's head coach, South Africa tiptoed into the home summer wondering how much worse things could get. Now, as the sunshine starts to become diluted with autumn's first air, and with three months of cricket that has been heart-stopping and heartwarming in equal measure, South Africans are struggling to remember a summer this good.
A brass band played the 10-000 strong pink-clad Wanderers supporters home after South Africa did their bit to make automatic qualification for this year's fifty-over World Cup a reality. The rest is in Bangladesh's hands. As long as they win a game in Ireland in May, South Africa will be on their way to India. But no-one was thinking that far this evening.
As the sun set in Johannesburg, it was about celebrating the first feel-good summer since 2017-18, when South Africa beat India and Australia in home Tests series, and forgetting about the seasons that have gone by since. The defeat to Sri Lanka in 2018-19. The administrative implosion of 2019-20; the effects of it were felt into this year. The pandemic, and the keeping apart of people who, at their core, are designed to congregate. Now, these are more of South Africa's people than ever before.
Have a glance at the crowds that packed out the SA20, showed up to support the women at the T20 World Cup and attended the series against West Indies and Netherlands and you'd have to agree that it's the most diverse going group around. And then you have to feel it. South Africa is only place where Afrikaans pop-tracks and kwaito beats both get fans on their feet, it's a place where a mix of races, genders and ages combine in what can very seldom be described accurately as unity, but this was one of those times and the team knows it.
"We've spoken about how we're in a privileged position to inspire our country and unite our country through sport. To see that happening on the banks has been awesome from someone who's been out of the game in South Africa for seven years," Rob Walter, South Africa's white-ball coach who spent seven years coaching in New Zealand's domestic system said. "To see the difference in the people who are watching the game has been awesome as well."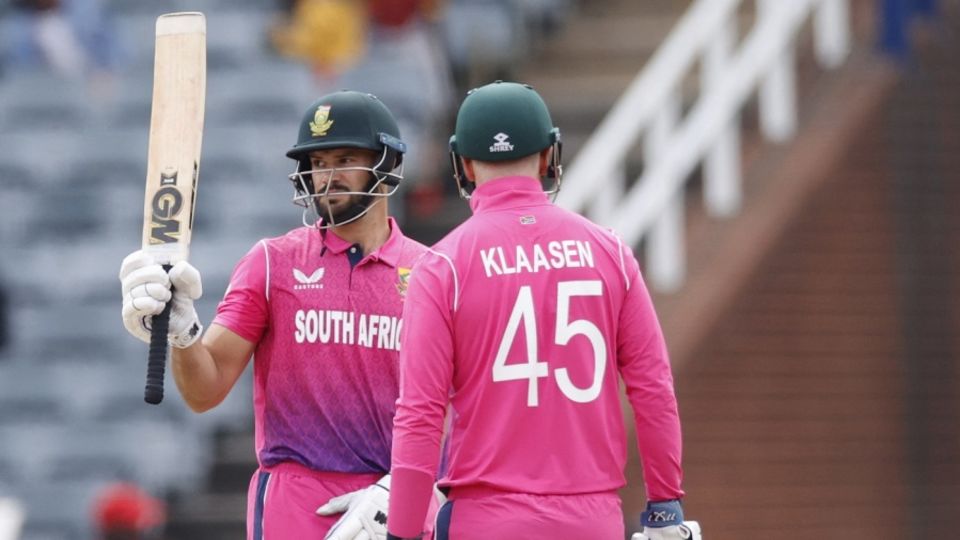 Aiden Markram raises his fifty•AFP/Getty Images
In Walter's time away, South African cricket has been through some uncomfortable things, most especially a raw reckoning with race. At the centre of the storm has been Temba Bavuma, the country's first black African Test batter who was elevated to white-ball captain and struggled in T20Is. Bavuma suffered his worst scrutiny when he was snubbed at the SA20 auction in the lead up and at the World Cup, and under Walter, he has been relieved of that format. In return, he has scored three centuries in three months, two in ODI cricket, and has symbolised South Africa's revival. "He's a wonderful human being. He's a great advocate for our country, So it's wonderful just to be part of sharing a change room with him. And the fact that he can play the cricket that he's played, which has been exceptional, is just a sort of cherry on top for a guy who is not given enough credit after what he has gone through," Walter said.
But Bavuma is not the only one. Aiden Markram started 2023 after he was dropped from the Test team, but picked to captain Sunrisers Eastern Cape. He then returned to score a century at SuperSport Park and was named T20I captain. In him, South Africans can see the aggressive, smart style of cricket they are trying to play. "We are on this new journey that everyone speaks about and that brand of cricket everyone wants to play is starting to take some shape," Markam said. "It's exciting to be a part of and exciting to watch."
And then there is Sisanda Magala. A player who could not make the squad for fitness reasons is now an integral part of the white-ball sides, has an IPL deal and took a first international five-for to win a series. The Wanderers is where he plays his domestic cricket and the crowd got behind him in a big way as he bowled at the death. Cries of 'Sisanda, Sisanda," reverberated around the Bullring and when he took the fifth wicket, the joy in the ground was palpable. Every player celebrated with him, even those in the dugout, where Wayne Parnell did his Cristiano Ronaldo celebration from his seat. Markram, who is Magala's captain in the SA20, acknowledged that Magala's success is shared by everyone. "With Sisi, if he's got backing then he's going to break his back for you," Markram said. "Through a few performances, a player feels that now they belong at this level. And they can compete and win games at this level. It's great for him to have these achievements that he's getting. The guys love him. He has great value in the changeroom and when he does well, everyone is over the moon."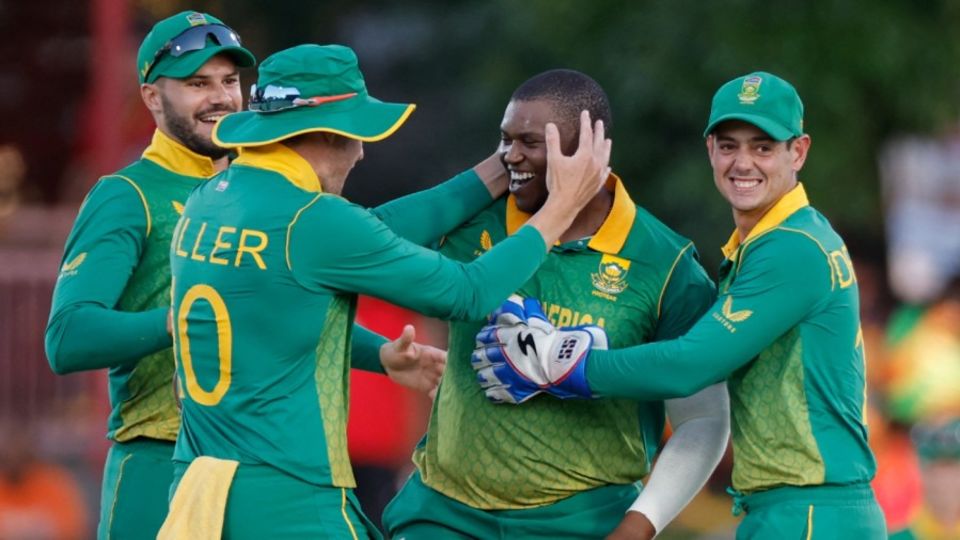 Sisanda Magala dented England's progress with key wickets•Getty Images
What the SA20 did for Markram and Magala and later even for Bavuma, who got a deal, is what it did for South African cricket in general: it showed it was still alive. When Walter was asked to track the revival, he traced it back to that tournament. "We can't underestimate the impact of the SA20 on cricket in South Africa. There was some momentum coming out of that and we were able to jump on that," he said. "We've played some nice cricket but by no means our best cricket and that's the exciting part."
With so much promise, someone like Bavuma said it's a "pity the summer has to end now," but it's been far better than anyone expected. Ordinarily, series wins against West Indies and Netherlands – neither of them blockbuster opponents – would not be celebrated with such gusto. But this time it's been about South Africa. They've played entertaining, engaging cricket to sign off a champagne summer with more fizz than anyone could have asked for.
Source: ESPN Cricinfo