Rich countries are donating more money than ever towards food aid in poorer countries. But that money is a bit like a band-aid that doesn't heal the underlying wound, billionaire Bill Gates explained to Quartz in an interview this week.
Instead, he said, donors should be much more focused on supporting basic agricultural research. That way, improvements to protect crops from climate change and boost their yield—technology that is now standard-issue in rich countries and for their staples, like corn and wheat—can be adapted to the climate conditions of sub-Saharan Africa and to crops like cassava and yam. "Certainly without better seeds, we are going to fall short," he said.
It's not just food security. The world is not on track to meet almost any of the "sustainable development goals" adopted by the UN in 2015, according to a new report by the Bill and Melinda Gates Foundation. Climate change, the pandemic, and the war in Ukraine all threw wrenches in the works, Gates explained. But donor countries are also stuck in outmoded approaches to aid that undervalue the potential impact of local scientific innovation, which requires sustained, long-term investment, he said.
Looking ahead to the COP27 climate summit in Egypt in November, Gates also said the focus by activists and the host country on climate aid finance may be a distraction: "I hope the meeting ends up being a constructive thing, and not just a shrill "where's-the-money?" thing," he said.
—Tim McDonnell, Cairo-based climate change and energy correspondent
💡 The opportunity: With over 40 million savings and credit cooperative organizations (SACCO) members on the continent, fintech has a huge opportunity to digitize the industry.
🤔 The challenge: Technology comes at a cost, and smaller SACCOs may not be able to afford the high prices that cover the cost of cloud computing and real-time transactions.
🌍 The roadmap: Digitizing operations in the back office of SACCOs is the first step, followed by enabling 24/7 transactions for their members from wherever they are. This leads to digitized payments, remittances, and investments, as well as faster lending with better credit scoring and credit information sharing.
💰 The stakeholders: SACCOs themselves and their members, regulatory bodies, trade and agricultural unions, and other players in the financial sector that want to offer supplementary products to credit union members.
Learn more about Kwara, a Kenya-based digital banking platform for SACCOs, in this coming Wednesday's edition of the Quartz Africa Member Brief. To get the Member Brief directly in your inbox (and 
save 40%
), become a member today!
A Brazilian fintech unicorn lands in Africa. Alexander Onukwue reports on what the Africa launch of EBANX, a decade-old Brazilian payments processing company operating in 15 Latin American countries, could mean for Africa's leading fintech players.
Tough times ahead for Kenyans. A subsidy expiring the day after President William Ruto was sworn in caused a sharp rise in fuel prices and electricity costs, Faustine Ngila reports.
African free trade must include women. Liberia's vice president Jewel Taylor and other leaders emphasized the need to increase African women's access to finance to enable trade, Alexander Onukwue writes.
The Gambia has a paracetamol problem. Alexander Onukwue explains why the west African country has suspended all sales of the medication's syrup.
Tech is transforming Egypt's agriculture. Farmers in southern Egypt are now using a mobile app for weather forecasting and making informed decisions on irrigation and fertilization. Muhammed Kotb explores other projects and tech startups helping farmers boost yields.
Charting the countries holding Africa's wealth
Three African countries hold more than half of the continent's total wealth, according to a new report on Africa's wealth (pdf)
🇿🇦 South Africa: $651 billion
🇪🇬 Egypt: $307 billion
🇳🇬 Nigeria: $228 billion
🌍 Africa in total: $2.1 trillion
Mauritius gets a special mention as "the fastest growing wealth market in Africa in percentage growth terms, with growth of 74% between 2011 and 2021." The island nation also has the highest wealth per capita in Africa, equivalent to $34,500. Faustine Ngila crunches the numbers of where the continent's richest people live.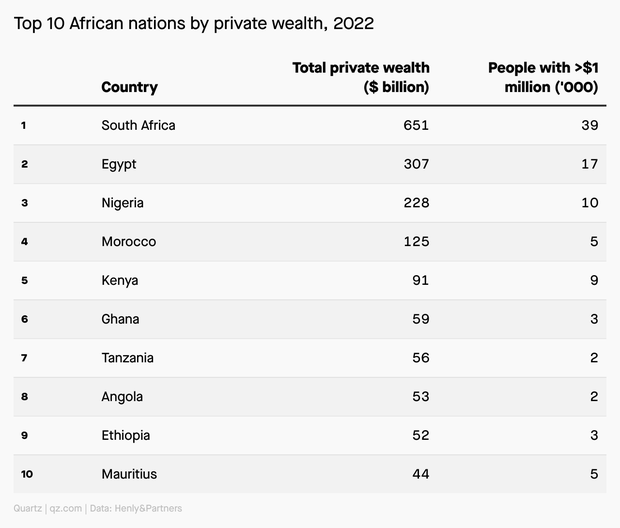 Person of interest
Since touching down in New York City more than 30 years ago from his hometown Dakar, the Senegalese chef, author, and culinary activist, Pierre Thiam, has dedicated his life to introducing a global audience to west African cuisine. In doing so, he hopes to promote a region with a rich food culture, empower local farmers, and challenge long-held perceptions about a part of the world too often linked with negative stereotypes.
He is best known for bringing fonio to the world. Indigenous to the Sahel region that straddles the width of Africa between the Sahara Desert and the Sudanian savanna, fonio is gluten-free, rich in iron and amino acids, can grow in nutrient-poor soil, and requires very little water, which makes it the ideal crop in the fight against climate change.
Meron Demisse reports fonio is only the beginning in Thiam's much grander mission of elevating the status of African cuisine globally.
Source : Quartz Africa