Learn more about Kwara, a Kenya-based digital banking platform for SACCOs, in this coming Wednesday's edition of the Quartz Africa Member Brief. To get the Member Brief directly in your inbox (and 
save 40%
), become a member today!
A Brazilian fintech unicorn lands in Africa. Alexander Onukwue reports on what the Africa launch of EBANX, a decade-old Brazilian payments processing company operating in 15 Latin American countries, could mean for Africa's leading fintech players.
Tough times ahead for Kenyans. A subsidy expiring the day after President William Ruto was sworn in caused a sharp rise in fuel prices and electricity costs, Faustine Ngila reports.
African free trade must include women. Liberia's vice president Jewel Taylor and other leaders emphasized the need to increase African women's access to finance to enable trade, Alexander Onukwue writes.
The Gambia has a paracetamol problem. Alexander Onukwue explains why the west African country has suspended all sales of the medication's syrup.
Tech is transforming Egypt's agriculture. Farmers in southern Egypt are now using a mobile app for weather forecasting and making informed decisions on irrigation and fertilization. Muhammed Kotb explores other projects and tech startups helping farmers boost yields.
Charting the countries holding Africa's wealth
Three African countries hold more than half of the continent's total wealth, according to a new report on Africa's wealth (pdf)
🇿🇦 South Africa: $651 billion
🇪🇬 Egypt: $307 billion
🇳🇬 Nigeria: $228 billion
🌍 Africa in total: $2.1 trillion
Mauritius gets a special mention as "the fastest growing wealth market in Africa in percentage growth terms, with growth of 74% between 2011 and 2021." The island nation also has the highest wealth per capita in Africa, equivalent to $34,500. Faustine Ngila crunches the numbers of where the continent's richest people live.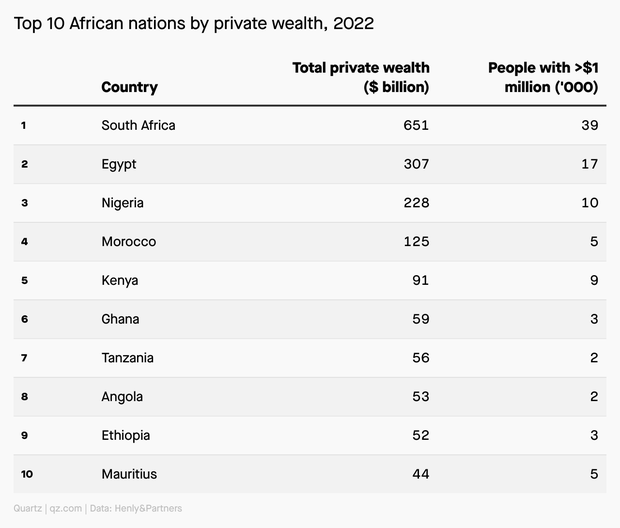 Person of interest